Activities come in all shapes, forms and sizes, and you can be guaranteed that with Ireland being the natural, rugged place it is that no matter where you go there are enough things to do outside the more luxurious treats that great hotels provide. The hotels listed here are that little bit different, however, as they deliver the best of both worlds. Besides, is there anything better than spending a morning and/or afternoon up to your knees or neck in exertion, heading back to your gorgeously appointed room, scrubbing up, and then sitting down to a calm but terrific culinary experience? Short answer: no.
---
KELLY'S RESORT HOTEL, COUNTY WEXFORD
The Buzz: We're not just saying this because we have been here before, but Kelly's Hotel is effortlessly one of the best places to rest your head – if you get a chance to do that, of course. We say this because there always seems so much to do between breakfast, lunch and dinner. Renowned for its food and wine offerings/pairings, the hotel is especially good at balancing the relaxed with the even more relaxed, which is probably why its activities schedule is so full.
Activities: There are two indoor and three outdoor tennis courts;the hotel has its own jogging track, as well as a manicured croquet and bowls/boules lawn for those in search of less strenuous activity. Fitness and aerobics classes are scheduled daily. And please don't ignore the hotel's exceptional art collection, which will occupy you for hours.
More Info: www.kellys.ie
---
DELPHI ADVENTURE RESORT, LEENANE, CONNEMARA, COUNTY MAYO
The Buzz: You know the old telly ad where you see a guy carrying a huge bag of ice upstairs to an apartment, and then emptying it on the floor in front of his girlfriend, with the words, "you want ice? You got ice…"? Well, Delphi is like that, except it's adventure and activities all the way. Of course, when you're back from whatever it was you were doing during the day, never forget there are lovely bedrooms to sleep in and amazing food to eat.
Activities: Where to begin? And do we have enough space to list them all? Here goes: surfing, kayaking, canoeing, raft building, zip line, aerial trekking, bog obstacle course, abseiling, orienteering. After that, cycling and walking just won't give you the same tingle, will they?
More Info: https://www.delphiadventureresort.com/
---
ASHFORD CASTLE, CONG, COUNTY MAYO
The Buzz: Ah, folks, what can we say? Ireland's very first Forbes 5-star hotel? National Geographic Unique Lodge of the World? Following a significant renovation schedule over the past two years, Ashford Castle – all 800 years and 350-acres of it – is ready to receive you.
Activities: From fishing and golf to falconry and horse riding. From zip-lining and tree climbing to cycling and kayaking. From archery to stand-up paddle boarding. From tennis to off-road driving. Not sure which to choose? The hotel's Activities Co-ordinator will assist you. Posh or what?
More Info: https://www.ashfordcastle.com/
---
BALLYFIN, COUNTY LAOIS
The Buzz: It isn't often that an Oscar-nominated actor spills the beans on a hotel he has stayed in, but Richard E. Grant did just that when he said of Ballyfin that he loved it so much he should be the property's PR manager. With 20 uniquely appointed bedrooms, the neo-classical manor – set on 600 acres – is a real step-back-in-time venue that is a balm for the soul and a treat for the mind. And the body? Read on.
Activities: With a 600-acre space to play with and on, you can only imagine what you can do here. From gentle strolls and fishing on the lake to mountain biking, horse riding, clay pigeon shooting, air rifle target shooting, archery and falconry, your time here will be well used up. As will you after all of them!
More Info: www.ballyfin.com
---
POWERSCOURT HOTEL RESORT & SPA, COUNTY WICKLOW
The Buzz: This recently named AA Hotel of the Year recently picked up one of the best customer experience comments on yelp.ie: "God comes here for a holiday – and in His measure makes certain that your experience is the same as His." It's difficult to top that, and for good reason. With high placings on lists compiled by the likes of Lonely Planet and National Geographic, this Palladian-style temple of quality and mindful restoration is the business.
Activities: Golf (the estate has two of the finest courses in Ireland), the choice of amazing gardens, river walks, hiking from the hotel to Powerscourt Waterfall, at 121m (almost 400 ft) the highest in the county, and wishing you could abseil down it. Or is that just me?
More Info: www.powerscourthotel.com
---
ADARE MANOR, ADARE, COUNTY LIMERICK
The Buzz: Gothic splendour? Beloved heritage? The epitome of sumptuousness? A Michelin-starred restaurant? Over 840 acres of parkland? If these tick the boxes that you like the best, then sign up for what the hotel itself defines as "prestige without pretence, magic without nonsense."
Activities: You'll need more than a weekend away here to experience what's on offer. Take your pick from cycling (there are 840 acres, remember), archery, clay pigeon shooting, horse riding, the 'Irish Gundog Experience', fishing, and falconry. Not forgetting the fitness centre.
More Info: www.adaremanor.com
---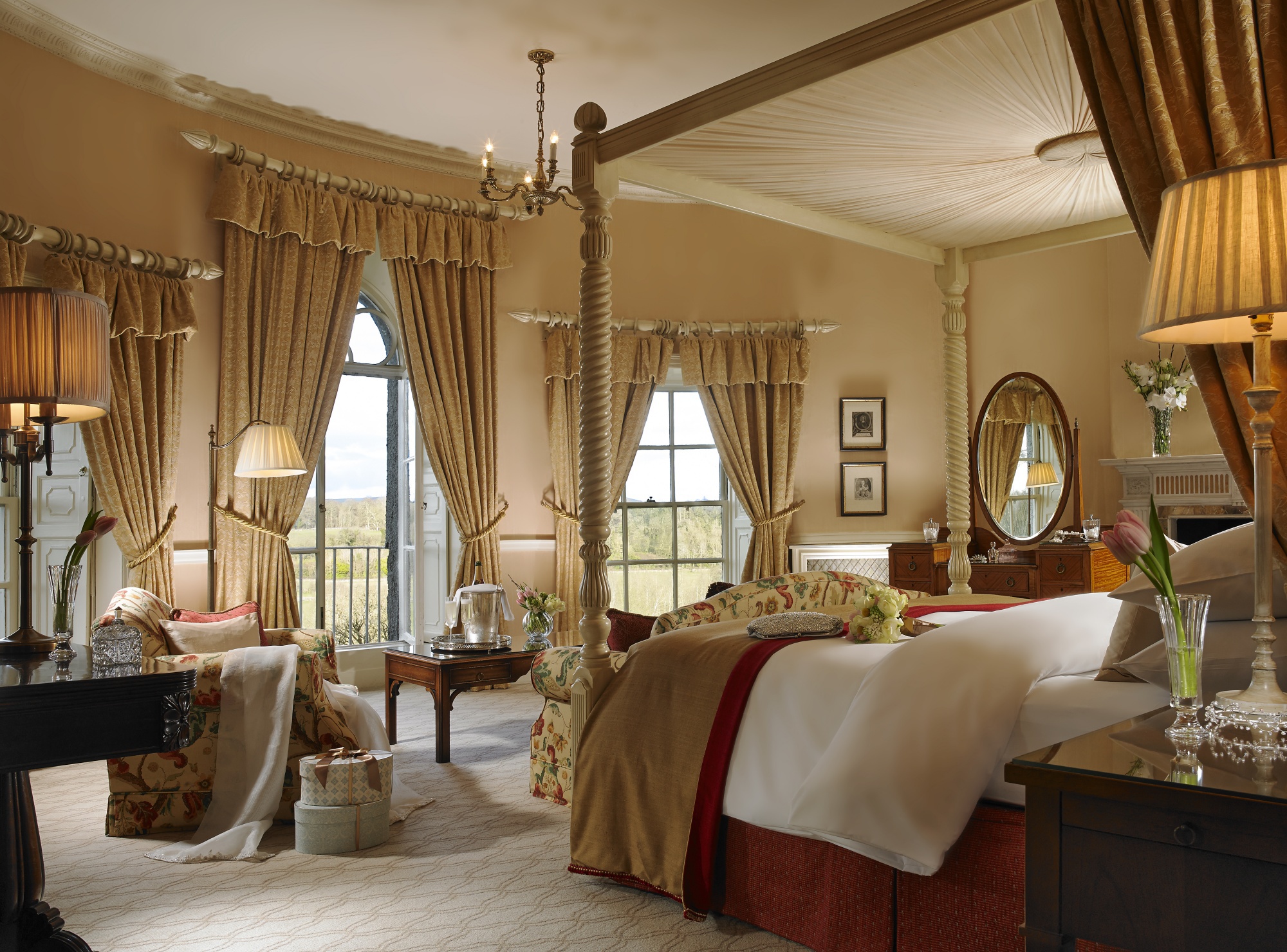 MOUNT JULIET, COUNTY KILKENNY
The Buzz: There are two buzzes here – the majesty of the estate's glorious Georgian Manor House and the elegance of Hunter's Yard, a more contemporary rendition of the Manor House's aesthetics and attention to detail.
Activities: Perhaps the primary draw is the Jack Nicklaus signature designed golf course. Alongside this are pursuits such as archery, falconry, fishing (from dawn to dusk), and horse riding (facilitated by an on-site equestrian centre that boasts two arenas, an American barn, and show jumps. Team building and other bespoke pursuits can be arranged.
More Info: www.mountjuliet.ie
---
INIS MEÁIN HOTEL, INISHMAAN, ARAN ISLANDS, COUNTY GALWAY
The Buzz: Ireland's original luxury nature lodge? That is some claim, but anyone who has been here will know it to be true. Created by Marie-Thérèse and Ruairí de Blacam 13 years ago, Inis Meáin Restaurant & Suites (as it is perhaps best known) is a private and beautifully designed retreat for those who search for a level of serenity too often missing from modern life.
Activities: Island life is yours for the taking and breathing in. Cycling, walking, fishing, hiking, swimming, and rock climbing. Sometimes, being alone with real, rugged nature is all the activity you need.
More Info: www.inismeain.com
---
INCHYDONEY ISLAND LODGE & SPA, CLONAKILTY, COUNTY CORK/FAMILY FRIENDLY!
The Buzz: Set on a stretch of beach that takes your breath away, Inchydoney Island Lodge & Spa is a multi-award winner that brims over with superb contemporary accommodation, a vast range of seawater therapies, and superlative dining options.
Activities: Kite flying, beach games, surfing, kayaking, whale watching, coastal walks, cycling, sandcastle construction (and demolition of same).
More Info: www.inchydoneyisland.com
---
HILTON PARK, CLONES, COUNTY MONAGHAN
The Buzz: Wild, romantic, and biodynamic – but enough about the guests! Hilton Park is a 400 acres wildlife estate with an emphasis on sustainability rather than on (as the website states) "profit-maximising". The result is a dedicated farm-to-fork approach
Activities: Coarse fishing, walk trails, croquet, rowing, golf, corporate team-building.
More Info: www.hiltonpark.ie
Written By Tony Clayton-Lea