By now, you know the usual responses when it comes to underwater hotels: you'll be 'sleeping with the fishes', or you'll be a member of the 'mile low club', and other smarty-pants comments like that. Well, steer clear of the naysayers, because underwater living might just become your future. Some see it as a new adventure for mankind, others as one of the last refuges for the super-rich. As you will see from our list, the accommodation ranges from very affordable to astronomical to wishful thinking, but each comes with something you don't get in any other hotel: uniqueness. 
---
UTTER INN, STOCKHOLM, SWEDEN
Trust the Scandinavians – this self-catering inn is actually a single underwater room that from the surface looks like a typical, if small, Swedish house. The idea of artist and sculptor Mikael Genberg, the room lays three metres below the surface of Lake Malaren, Vasteras, and while it isn't the most luxurious space you'll ever rest your head in (the room contains one table and twin beds) it is definitely one of the most unusual and unforgettable. Open only during the summer months. Despite the fact that an icebreaker keeps the waterways open during the winter season, as you can imagine it isn't really the best time to be submerged.
Info: https://www.sweden.org.za/utter-inn.html
---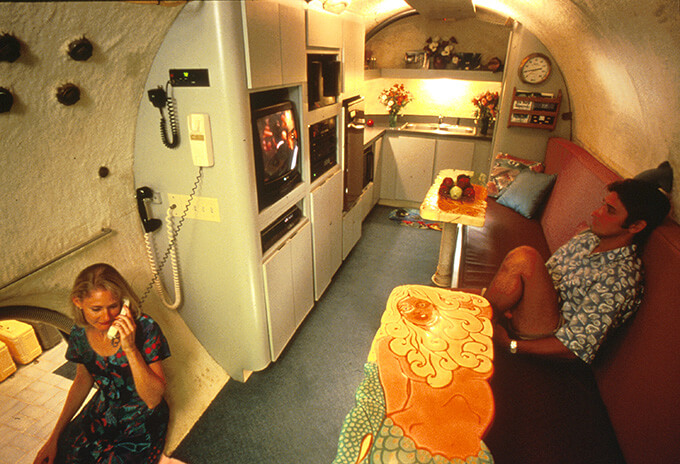 JULES' UNDERSEA LODGE, FLORIDA
Is this the only hotel in the world that you have to scuba dive to in order to check-in? While that might instantly deny entrance to some people, there are only too many others that will want to dive deep. The hotel/lodge has a fascinating history: it began as a research laboratory, from which to investigate the continental shelf off the Puerto Rican coast. Suitably refurbished and renamed (after the Jules Verne adventure/sci-fi novel, 20,000 Leagues Under The Sea), this place is designed for comfort, while the operational systems are monitored around the clock to ensure "a safe yet exciting adventure for our guests." Speaking of which – lodgers have included former Canadian Prime Minister, Pierre Trudeau, and Aerosmith's Steve Tyler.
Info: www.jul.com
+++++
---
SHIMAO WONDERLAND INTERCONTINENTAL, SONGJIANG, CHINA
Ever wondered what some countries do with abandoned quarries? If the country happens to be China, and if there is enough money resting in very deep pockets, then business developers build a five-star hotel inside that very same quarry, seal it, and then fill the quarry with water. A unique engineering wonder, it took more than 5,000 architects, engineers, designers and workers to build – but what a place this is. The luxury resort hotel has over 330 guest rooms, an extensive sustainability aesthetic, an eco-friendly green roof, an 'extreme' sports centre, and a transparent glass 'waterfall' situated in the centre of the building. The most amazing thing you'll experience: eating in Mr Fisher, the underwater seafood restaurant that is enveloped by fish flitting past your eyes.
Info: https://www.ihg.com/intercontinental/hotels/us/en/shanghai/shghe/hoteldetail
---
MANTA RESORT, PEMBA ISLAND, ZANZIBAR
If there is a crown of luxury – and we know there is because we've seen it on the telly – then the Manta Resort is the brightest gemstone in it. Within the resort is an underwater sea room that is part of a three-level floating construction: the ground floor (so to speak) is the location of the lounge area. The top floor has shaded beds, from which you can gaze at azure skies during the day and at night scrutinize the stars (which glisten sharper because of the lack of light pollution in the region). Below sea level, in the middle of a conservation area, is a gorgeous submerged turquoise-blue bubble of a bedroom from which you have virtually a 360-degree view. Be advised there is a minimum three-night stay in the Underwater Room, so you had best not be the claustrophobic type.
Info: http://www.themantaresort.com/
---
LOVERS DEEP SUBMARINE, ST, LUCIA, CARIBBEAN
We've heard of the phrase 'plumbing the depths' but this is ridiculous. Lovers Deep is truly luxury 5-star accommodation beneath the water. It really is a submarine, which means that apart from the luxury (which we'll get to very soon) you will be able to visit various Caribbean islands such as Barbados, Martinique, Montserrat, and a few others. And the luxury, we hear you ask? Whilst onboard, you will have a personal butler and chef, and be surrounded by designer décor straight out of a James Bond movie? Sign us up right now.
Info: https://www.oliverstravels.com/
---
ATLANTIS, THE PALM, DUBAI
Only in Dubai, you might reasonably say, and you'd be absolutely correct. The resort's USPs include the three-storey Underwater Suite, which features curious marine creatures – slippery rays, sharks poking their noses into other people's business, and too many others to list – gliding past your floor-to-ceiling windows. When you're not gazing in wonder at the underwater views of the Ambassador Lagoon, you could perhaps pass the time in your marble jacuzzi, or enjoy room service in your intimate lounge (accessed by a private elevator). Three words: spoiled for choice.
Info: https://www.atlantis.com/dubai/
+++++
---
POSEIDON UNDERSEA RESORT, KATAFANGA ISLAND, FIJI
It is pitched as the world's first significant, permanent and habitable one-atmosphere sea-floor structure, and you had better believe it: with suites located under the calm waters of the Pacific Ocean, this place is out there in the dominions of science fiction. This five-star resort extends to just less than 40,000 sq.ft., is about one and a half miles in length and is surrounded by a lagoon of clear waters that have a depth of almost 90 ft. The underwater suites (24 in number) have air conditioning and controlled humidity settings, an outer surface of 70% clear acrylic glass, from floor-to-ceiling, that affords breath-taking views of the seafloor and its innumerable marine life. The other USP? The resort has an underwater chapel should you wish to tie the (sailor's) knot.
Info: http://www.poseidonresorts.com/
---
HUVAFEN FUSHI, MALDIVES
Allow us a tiny bit of sleight-of-hand here. Huvafen Fushi doesn't have underwater rooms for you to sleep in overnight, but it does have the world's first and only underwater spa. You know what spas are like – they are areas of supreme calm and wellness, where you can drift in and out of dream-like states, where tension dissolves like a Rubex in a glass of water, where you don't have to worry about a thing. At Huvafen Fushi, you can add the ebbing and flowing of tides, tropical fish darting this way and that, bubbles forming and disappearing in an instant. Heaven on Planet Earth? That's the tagline, folks.
Info: https://www.huvafenfushi.com/
Written By Tony Clayton-Lea