From luxury to personality, from boutique to heritage, from quite lovely to spectacular, we select the best hotels in Paris for you to have a mooch around in 2020. From the ones you definitely know and dream about (Four Seasons Hotel George V Paris) to the ones you possibly haven't heard of (Fauchon l'Hôtel, La Comtesse, Hôtel du Petit Moulin) we give you the lowdown on the sleep'n'stay options. And be advised there are many – more than 2,000. The plus side here is Paris itself – it isn't called the City of Lights for nothing. The less than positive side? Unless you can really flex your debit/credit cards and secure a suite, hotel rooms in Paris are compact. Pack accordingly!
MAISON SOUQUET PARIS
A reasonably bland entrance hides the fact that Maison Souquet (https://www.maisonsouquet.com/en) is actually a classy old-school-design boutique hotel. Situated in the Pigalle area of the city, very close to the once risqué Moulin Rouge, this place prostrates itself at the feet of the Belle Époque era via designer Jacques Garcia's skill at recreating its layers of luxury. With a mere 20 rooms (which includes six wholly singular suites) that seep sensuality, a compact spa, and a cocktail bar that keeps its secrets close to its heart, Maison Souquet is pleasure personified. Ooh la, la, indeed.
---
HOTEL JEANNE D'ARC PARIS
Located in a quiet street beside St. Catherine's Square in the centre of the historic Marais district? That's all you need to know (pretty much) about Hotel Jeanne d'Arc (www.hoteljeannedarc.com), a contemporary three-star property that has bright design principles and a modus operandi that lends itself to the cost-conscious but smart/stylish traveller. For a city with some outrageously expensive hotels that most of us could never afford, this is something we would like to see more of.
---
LE ROCH HOTEL & SPA PARIS
This five-star boutique hotel (37 rooms, available in five different colour schemes, as designed by Sarah Lavoine) is located between Place Vendôme and Place de l'Opéra, so there's an immediate sense of down-to-earth charm and upscale sensibilities. None more Parisian, Le Roch Hotel & Spa (https://www.leroch-hotel.com/en/) is perfect in those summer months when a courtyard garden and a warm, sunny terrace go hand in hand. And you did notice the 'Spa' word attached to the 'Hotel'? Yes, and not only that – there's a swimming pool here, too. Paris – you spoil us, you really do.
---
HÔTEL PROVIDENCE PARIS
Welcome to the hotel that has almost everything a visitor (either tourist or business traveller) might require to make a good stay into a great one. Built in 1854, Hôtel Providence (http://www.hotelprovidenceparis.com/en/) rests in the Eastern District of the city, by Saint-Martin Canal, Beaubourg and Haut-Marais. While it's a boutique property (18 rooms, including three suites, each space individually graced with vintage furniture, designer fabrics and a bespoke cocktail bar), the hotel exudes an extra level of quality. Opulence at a cost that won't break the bank? Oui, madame.
---
FOUR SEASONS HOTEL GEORGE V PARIS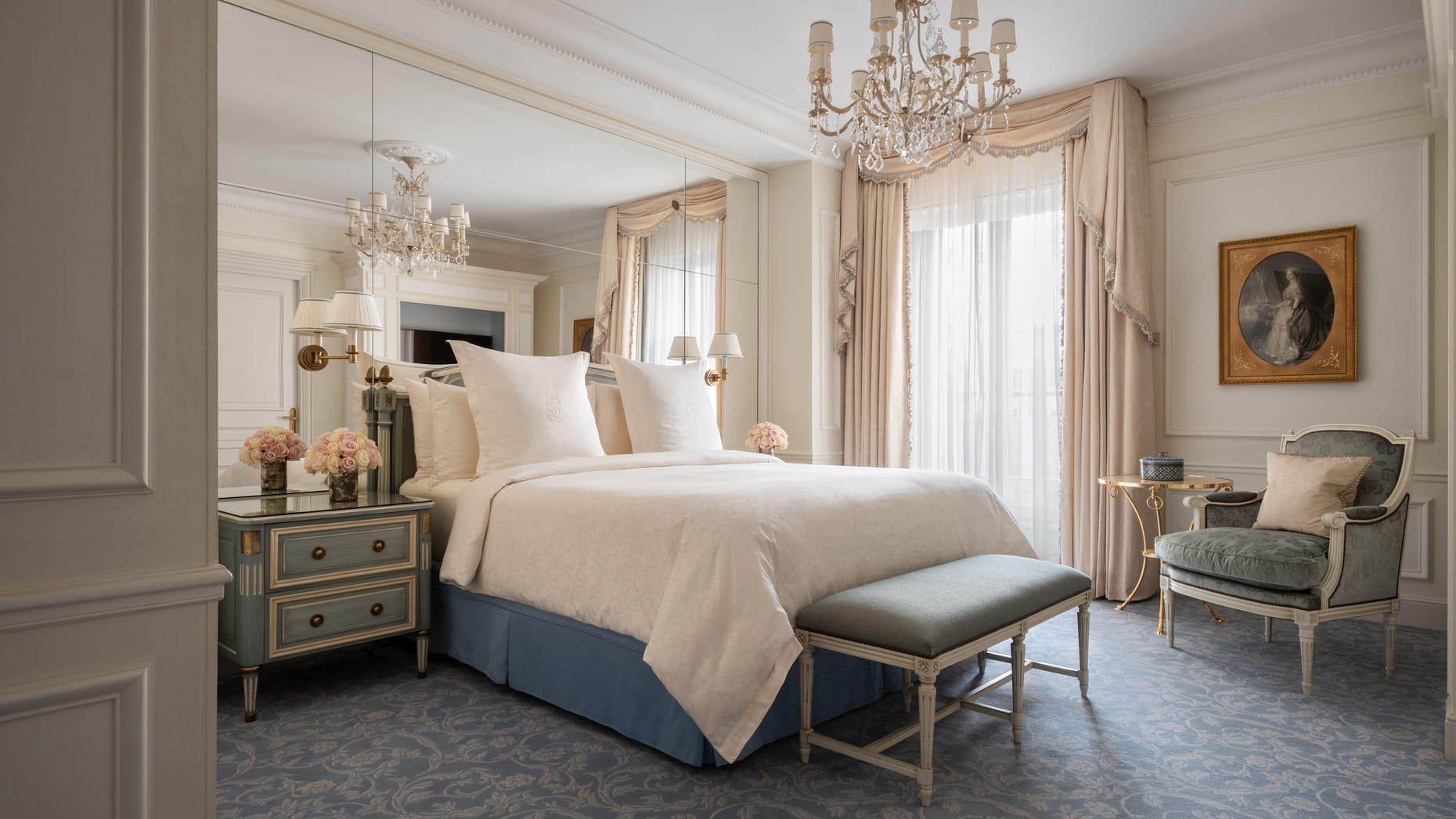 Oh, boy – who can we rob to enable us to afford a weekend's stay here? an art-deco landmark built in 1928, the Four Seasons Hotel George V Paris (https://www.fourseasons.com/paris/) is the stuff of legend and envy. Where to start? Oversized rooms and suites? Three in-situ restaurants (Le Cinq, Le George, L'Orangerie) with five Michelin between them? A new spa with a champagne bar? A superb swimming pool? And (get this, readers) an early morning, staff-accompanied run through the City of Lights? Seriously – who can we rob?
---
LA COMTESSE PARIS
In the heart of the quite chic 7th district, La Comtesse (https://comtesse-hotel.com/) resides as a homage to and celebration of the city's great female thinkers, the 18th-century duchesses, marchionesses and countesses that aided and abetted the art of culture and conversation. A four-star hotel with added luxury touches (its café produces a hot chocolate to end hot chocolates, and to counter-balance the calories there is a fitness centre), La Comtesse is also a reasonably priced option for a weekend stay.
---
GRAND POWERS PARIS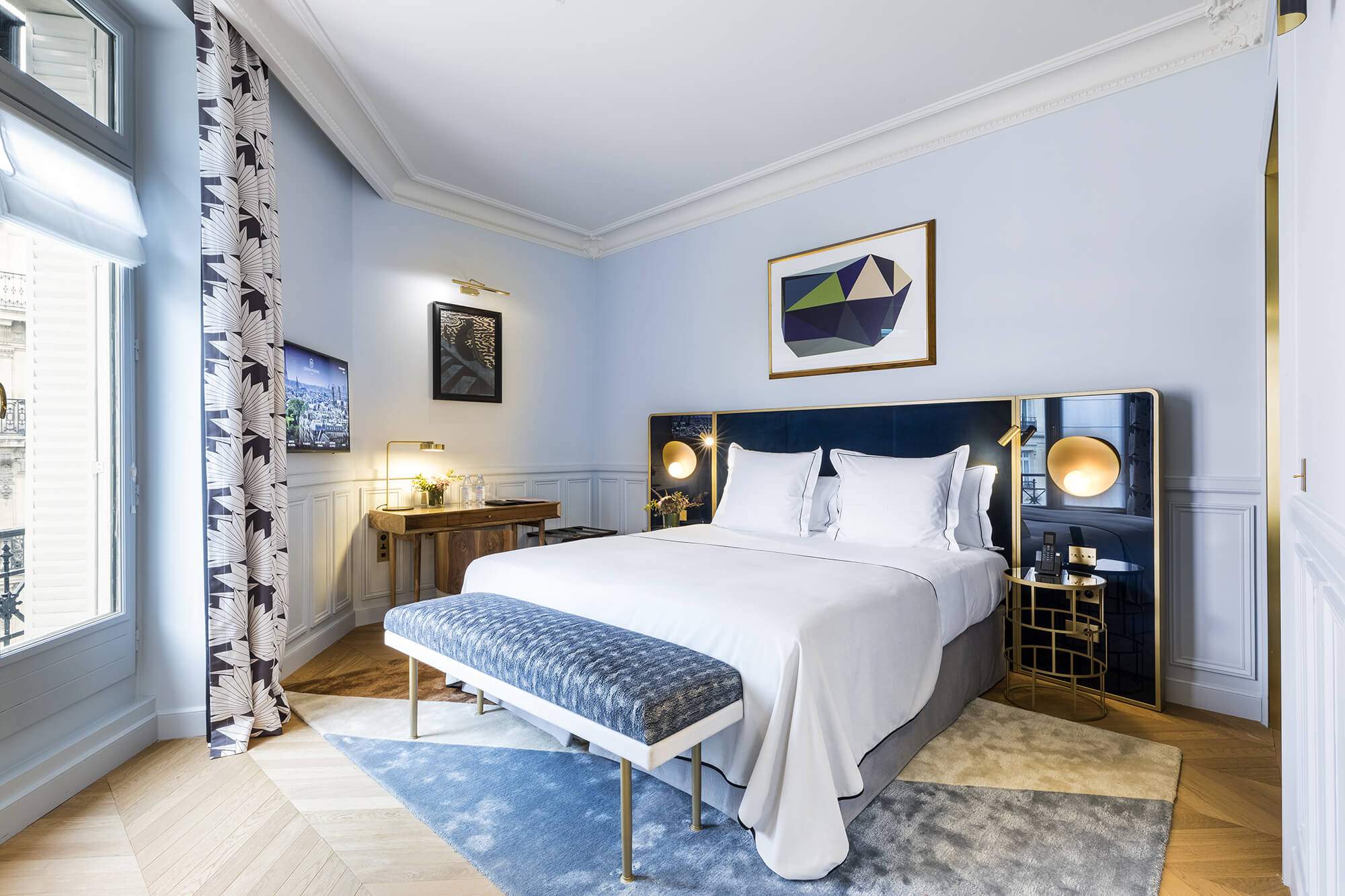 Recently refurbished to the point where (as it says on its website) it "offers a virtuosity of balance between heritage and invention", Grand Powers (https://www.hotelgrandpowersparis.com/en/) began its life in 1920 as a symbol of Parisian luminosity. The recent reinvention accentuates the property's heritage while also paying due regard to the blend of classic elegance (separate floors of the hotel have designated colour codes) and contemporary trappings.
---
HÔTEL DE BERRI PARIS
If it's a hotel that mixes wonderful examples of art (visual, sculpture) with the level of chicness that Paris is justifiably globally recognised for, then Hôtel de Berri (https://www.marriott.com/hotels/travel/parbe-hotel-de-berri-a-luxury-collection-hotel-paris) is the one for you. The former residence of avant-garde fashion designer Elsa Schiaparelli, the hotel's background might date back to the 1900s but everything else is right here, right now.
---
HÔTEL DES GRANDS BOULEVARDS PARIS
Staying bang in the centre of Paris can have advantages and drawbacks, but Hôtel des Grands Boulevards (https://www.grandsboulevardshotel.com/) effortlessly manages to have all of the former while being tucked away from the push and shove of city centre life. A sizeable, refined building located at the heart of the (how French can you get?) bourgeois districts, and close to the Opera House and Montmartre's theatres, this lifestyle place fuses inspirations old and new. Interior design by Dorotheé Meilichzon, meanwhile, is as chic as it can get.
---
HOTEL D'AUBUSSON PARIS
Hotel d'Aubusson (https://www.hoteldaubusson.com/) has certainly changed from its origins as a 17th-century townhouse, but that's what you would expect from such an august building. Situated in the stylish neighbourhood of Saint-Germain-des-Prés, you would be right to expect similar layers of sophistication here. From the hotel's newly revamped interior patio to the no-nonsense policy of welcoming guests with reduced mobility (two rooms include customised equipment), this is Left bank luxury with heart and soul.
---
HÔTEL DU PETIT MOULIN PARIS
With surprising interiors and rooms designed by Christian Lacroix, a location in Haut Marais, and affordable accommodation, this tiny four-star boutique hotel (16 rooms and one Junior Suite) started life as the first bakery in Paris. The original shop frontage remains (protected under French Heritage law), but nothing prepares you for what's inside Hôtel du Petit Moulin (http://www.hotelpetitmoulinparis.com/en/). The rooms are audaciously different, so put aside all notions of traditional hotel design with what is surely one of the best examples of its kind.
---
FAUCHON L'HÔTEL PARIS
Parisian fine foods house, Fauchon, is aligned with being at the forefront of creating something fresh, something atypical, an aesthetic where innovation, design and sheer class dovetail. That same attention to detail is mirrored in the lifestyle Fauchon l'Hôtel Paris (https://www.hotel-fauchon-paris.fr/), wherein the sublime work of French artists runs in parallel with the overall design. The icing on the cake (perhaps literally) is the on-site Grand Café Fauchon, which dares to be different with superlative food in incredible surroundings.
WRITTEN BY TONY CLAYTON-LEA